Otherwise known as 'Wine Futures', en primeur is the process by which wine can be pre-purchased before it has been bottled, and is still in barrel.
Wines that are sold en primeur are some of the most sought after in the world. It is the chance to buy them, usually, at their lowest possible price. Investors and collectors see en primeur as an opportunity to buy vintage wines whilst they are still in the primary market. We have put together this guide to answer any queries you might have about how to buy wine en primeur.
When did en primeur begin?
The process of buying En Primeur dates back hundreds of years, with private individuals securing vintages for future consumption. Whilst some people still buy wine en primeur for this reason, the process gained popularity amongst investors in more recent times as a result of the monetary potential of the wine.
The process was then widely commercialised with the introduction of the Bordeaux En Primeur tasting week in the 1970s, which occurs annually between the end of March and beginning of April. However, the en primeur system is not exclusive to the Bordeaux region…
So, what other regions participate in the system?
In recent years, most established wine regions undergo an en primeur campaign of some sort. However, campaign datets vary from region to region. The most important En Primeur offers are of the Bordeaux and Burgundy region. That being said, other regions also adopt the system – such as the Napa Valley and Tuscany.
With all the unprecedented events of 2020, it is unsurprising that the Bordeaux 2019 En Primeur Campaign did not function ordinarily. Estates maintained the system by hosting Zoom tastings, released the wines at prices 30% lower than their 2018 counterparts.
The uncertainties of last year's campaign makes it all the more important to fully prepare for the upcoming campaign this year, especially given the continued uncertainty into 2021. To be best equipped for 2020 Bordeaux futures, knowing how the system works is the best place to start.
So, how does En Primeur work?
Timings
Typically, the process begins with wine tastings around the beginning of Spring, ready for the campaigns to start in May. This usually continues over the following 10 weeks.
In this time, it isn't uncommon to see the most reputable brands wait to release their wines, as this gives them maximum scope to evaluate their pricing. The pre-purchasing of these wines is competitive, so it is important to know these timelines to ensure you don't miss out.
Tastings
The tastings in the springtime are an opportunity for wine critics to rate and review samples of the coming release. Critics taste a variety of samples as a method of providing an accurate depiction of the expected wine quality of the following vintage.
Chateaux to negociants
After this tasting period, estates release the wine in tranches to negociants. This gives the Chateaux an opportunity to alter the release price for future tranches by evaluating the overall market sentiment.
Once in the hands of the negociants, offers are sent to customers in a wider market space: importers and distributors, merchants and private clients. 
Delivery
Around 2-3 years after you purchased your wine, it is bottled and shipped from the Chateaux to a bonded warehouse used by your chosen merchant. You will then liaise with your chosen merchant to decide whether you would like to continue storing your wine in bond or delivered to another address.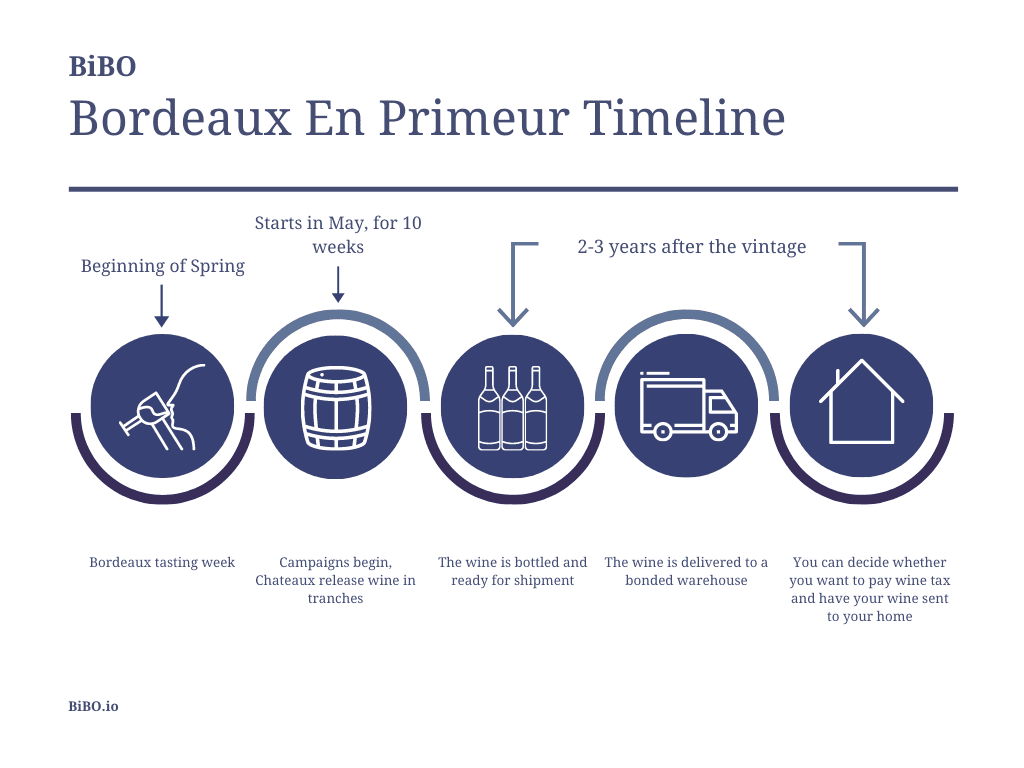 But, is it worth buying en primeur?
There are pros and cons to any type of futures investment. Evaluating these will help you to navigate around the potential gains and losses associated with en primeur.
Firstly, there are several benefits to buying wine en primeur as an individual collector or investor:
Guaranteed provenance: you will be the first and only owner of the stock, meaning you have a full condition history.
Lower prices: wine purchased en primeur typically appreciates over time. This means investing in wine futures is the most cost-effective way to see financial gains.
Availability: Chateaux release wine in such small quantities that using the en primeur system is usually the most efficient way to buy your favourite labels.
Youth: Buying wine before it is bottled provides you with access to the wines maximum maturing and ageing potential.
Well, what about the risk?
Understandably, there is always an element of risk when pre-purchasing products that are not yet physical.
Taste: There is no sure way to know if you will enjoy the taste. You can navigate your opinions around critic scores, but some dispute that a full critique cannot take place until it has properly matured. This is unlikely to be an issue if you are buying purely for investment.
Stagnant value: there is no guarantee that your wine will appreciate. On occasion, some wines even experience depreciation. However, this is the risk many take for any investment future.
There is definitely no fixed formula to success within the en primeur system, but monitoring the process on a year by year basis – as well as buying through a trusted merchant – can help you to avoid any major problems.
How much does it cost to buy wine en primeur? How much is wine duty?
Different merchants will contribute differently to any extra costs there may be throughout the en primeur purchasing process. Some merchants will cover insurance, others will cover delivery, or both, or neither. We recommend doing a fair bit of research to find out which merchant will best meet your needs. Discussing your options with your supplier will aid in this process.
One thing to note, is that en primeur wine is bought in bond. This means that, at some stage, you will either have to pay the duty on it if you want it delivered. Conversely, if you want to keep it in-bond, you will have to pay storage fees. Ultimately, it is your decision whether you want to keep your wine in-bond or not, but discussing the processes with your supplier will aid in finding the best solution for you. To find out more about wine tax, click here.
Pinpoint your motivations to buying wine en primeur: do you want to drink, invest or collect?

If you intend to drink your wine, you'll need to pay extra attention to critics reviews, rather than overall scores. You'll want to buy wine that you enjoy, so look out for your favourite tasting notes amongst your favourite labels.
If you are looking to invest in or collect wine, we recommend seeking opinions from industry experts. Of course, your own research will be important, but discussing your options with a professional will help tailor your service to your individual needs.

Choose a trusted and experienced merchant or retailer.
Do your own research: Which wines regularly perform well post-release? And which of those are praised by critics?
Make sure you have a storage solution in place. This is something you can discuss with your chosen supplier throughout the purchasing process.