Do you want to know how to sell your wine? We've put together this guide to help you decide which is the best route when it comes to selling your wine collection; whether you're looking for quick money, lots of money, or simply want it all taken care of for you.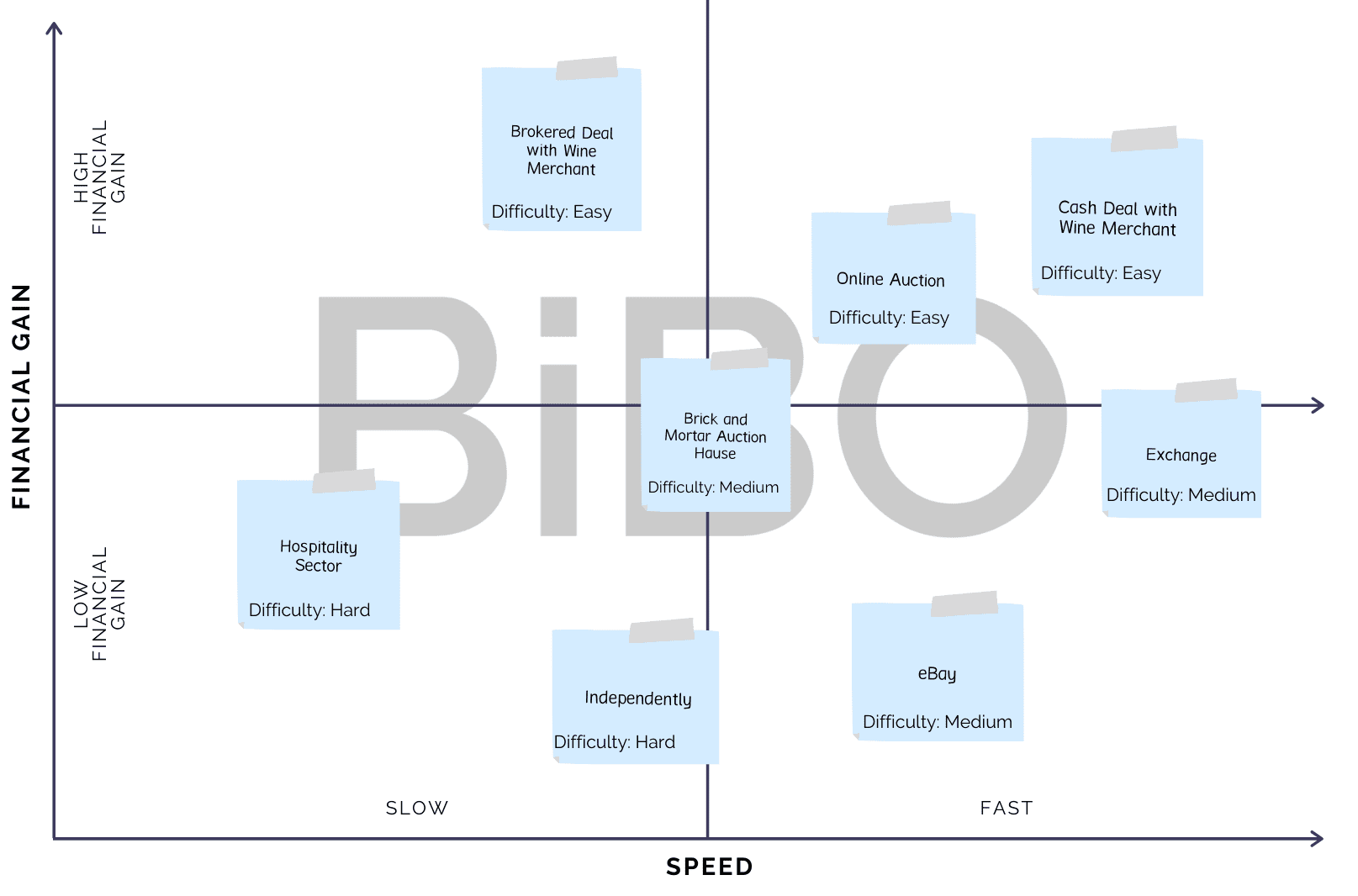 Sell Wine For Cash
Broker Wine
Auction Wine (via Brick and Mortar Auction)
Auction Wine (via Online Auction)
Sell Wine via Exchange Platform
Sell Wine on eBay
Sell Wine to Hospitality Sector
Sell Wine Independently
How To Sell Wine For Cash with a Wine Merchant (e.g. BiBO)
A cash deal is when you sell your wine directly to the wine merchant. It is one of the quickest ways to make money from your wine. At BiBO, a cash offer will be inclusive of all fees, so there are absolutely no hidden costs.
How it works:
Get a quote and valuation for your wine
Usually, as is the case with BiBO, you are not obligated to sell your wine after receiving your quote. However, the value of your wine may vary from merchant to merchant. You will receive your cash offer, which is the amount of money paid to you if you agree to sell your wine to the merchant directly. After accepting this offer, the process will begin and is usually organised by the wine merchant themselves.
Logistical Process
The wine merchant will then make arrangements for your wine to be collected, delivered or transferred to the storage facility. They will even arrange to have the relevant packaging sent to you if necessary. Once the wine has completed transit, it will be receipted in a warehouse, and subsequently condition reported. A condition report is a professional photograph of the wine detailing the quality and condition of it. This ensures that the buyer is receiving the same wine as detailed in the quote, among other condition checks. BiBO will then pay after receipt of a satisfactory condition report.
Pros
This is the quickest way to sell your wine if fast money is your primary driver. If you are looking to sell your wine quickly, this is probably the best route for you.
You can sit back and relax as this could be one of the easiest ways to sell your wine. All you need to do is release your wines with your current storage provider. After that point, everything is in the hands of the merchant.
This is one of the most secure ways of selling your wine. The wine does not officially belong to the merchant until the money has been paid into your account. In other words, with this type of sale, you are avoiding potential scams or exploitation.
Cons
The offer you receive will be slightly lower than the broking offer on your quote. So, if you're looking to maximise return, a brokered route might better suit your needs.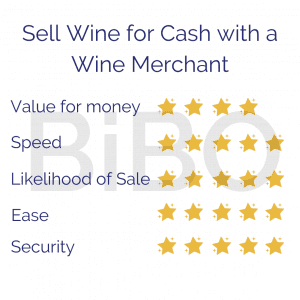 Conclusion: At BiBO, we highly recommend selling your wine for cash for speedy returns.