It is important to recognise that fine wine is not homogenous. In the same way that equities vary vastly in terms of how their selection can impact risk and timeline, wine is subtly complex and successful curation will impact a portfolio enormously. 
Within the asset there are sub categories that all operate under slightly differing parameters. This means that much like creating a stock portfolio, there will always be a composition of wines to match your investment horizons and your appetite for risk.
An Example Of A Diversified Wine Portfolio For A Balanced Risk Investor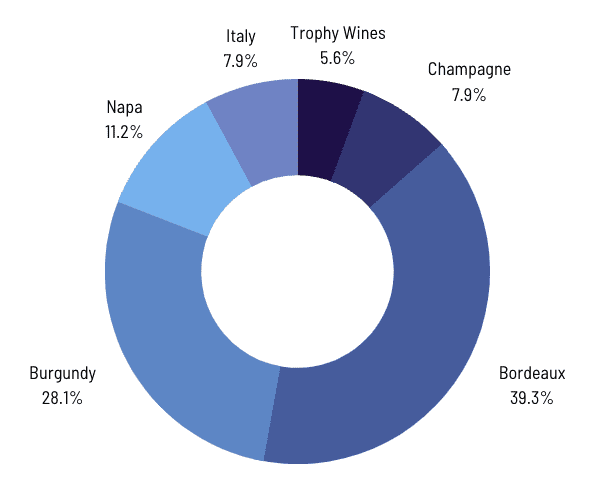 The diversity of selection available to an investor is what makes wine such a malleable tool. Depending on the goals and time horizons stipulated, there will always be a composition of wines to match the investor.

The region of Bordeaux still occupies over 55% of market share due to enormous production volumes, compared to other regions. The volumes traded are vast and this is a region that should be used as a stable core for any portfolio. Carefully selected vintages can offer long term steady compound growth with great liquidity at low risk. The En Primeur campaigns can offer a nice entry point but it is important to be selective and aware of the risk carried by a non-physical purchase.

Burgundy has enjoyed a stratospheric climb in value with price records surpassed on numerous occasions in recent years. The market has stabilised in recent months and is moving through a period of consolidation. The meteoric price ascent has come as a result of the tiny production volumes and a consumer base that is simply obsessive about Pinot Noir. With finite supplies as low as 100 cases as a starting point, demand always outstrips availability resulting in rapid price escalation, with some single bottles regularly fetching over £20,000.

Champagne is a steady and reliable region, producing in the region of 300 million bottles a year. Like Burgundy, fans of vintage Champagne are sticklers for quality but will pay for it handsomely. The producers of Champagne have worked tirelessly in their marketing efforts, intrinsically tying opulence and celebration to their product, ensuring stable global demand.

The top wines of the Rhone tick many boxes: they are produced by world class outfits, in boutique volumes, can age for 50 years and receive outstanding scores from the critics. All of these combine to produce an array of wines that have a cult following. As the market is not as liquid as other regions, case selection is of paramount importance.
Napa may not have the centuries of heritage that other wine growing regions can boast, but it more than makes up for this with absolute quality. Vast sums of investment pumped into a region unburdened by legislation, combined with near perfect growing conditions, have allowed producers to take their wines to incredible levels.

The wines of Barolo and Tuscany have become more prevalent within investment portfolios. Investors recognise the relative value found here, finding favour with the region's consistent high scores and greatly reduced list prices.
It should be commented upon that even within these subcategories wines can carry varying risk profiles. The vectors discussed all need to be involved in the decision, whilst these broader statements act as macro construction principles.
As a result of this versatility, portfolios can be constructed to reflect the aims of our investors. We can incorporate your risk appetite and exit timelines to ensure the wines provide the investment profile you desire.