Compared to many of the world's commodity markets, fine wine is still in its relative infancy. A marketplace that has had to play catch up to those more established markets. With the result a rapid expansion in infrastructure and financial participation producing at times vast volatility enabling incredible moments of both victory and loss. 
Much like the Tulip phenomena during the Dutch golden age of the 1600's, where prices reached extraordinarily high levels and then dramatically collapsed, the lack of pricing data in the early years of wine trading ensured that the fine wine market saw frequent cycles of boom and bust. Active trading of wine as a commodity as we know it today has been identified to have begun in earnest in the 1970's, amidst a rise in global wealth.
Trading in the 1970's however continued to exemplify the wild cyclical nature of a burgeoning market. Between 1970 and 1972, Cru Classe prices increased by 400%, before crashing back to 1970 levels by 1974. In 1975 cases of Mouton Rothschild 1970 fetched a modest £74 per case—5 years later that figure had jumped to £990 per case.
Since the tumultuous 70's, prices have overall plotted an upward trend. Assisted by the rising tide of global wealth and ever-expanding technology, fine wine's role as a symbol of success and celebration ensured its prices did the same. However whilst the world's market places were expanding the wine market rather peculiarly managed to avoid global expansion. Perhaps by design of its core members, or by simple virtue of its traditionally slow to change participants, fine wine for the most part remained a European pursuit.
Major Macroeconomic Moments that Impacted the Wine Market's Growth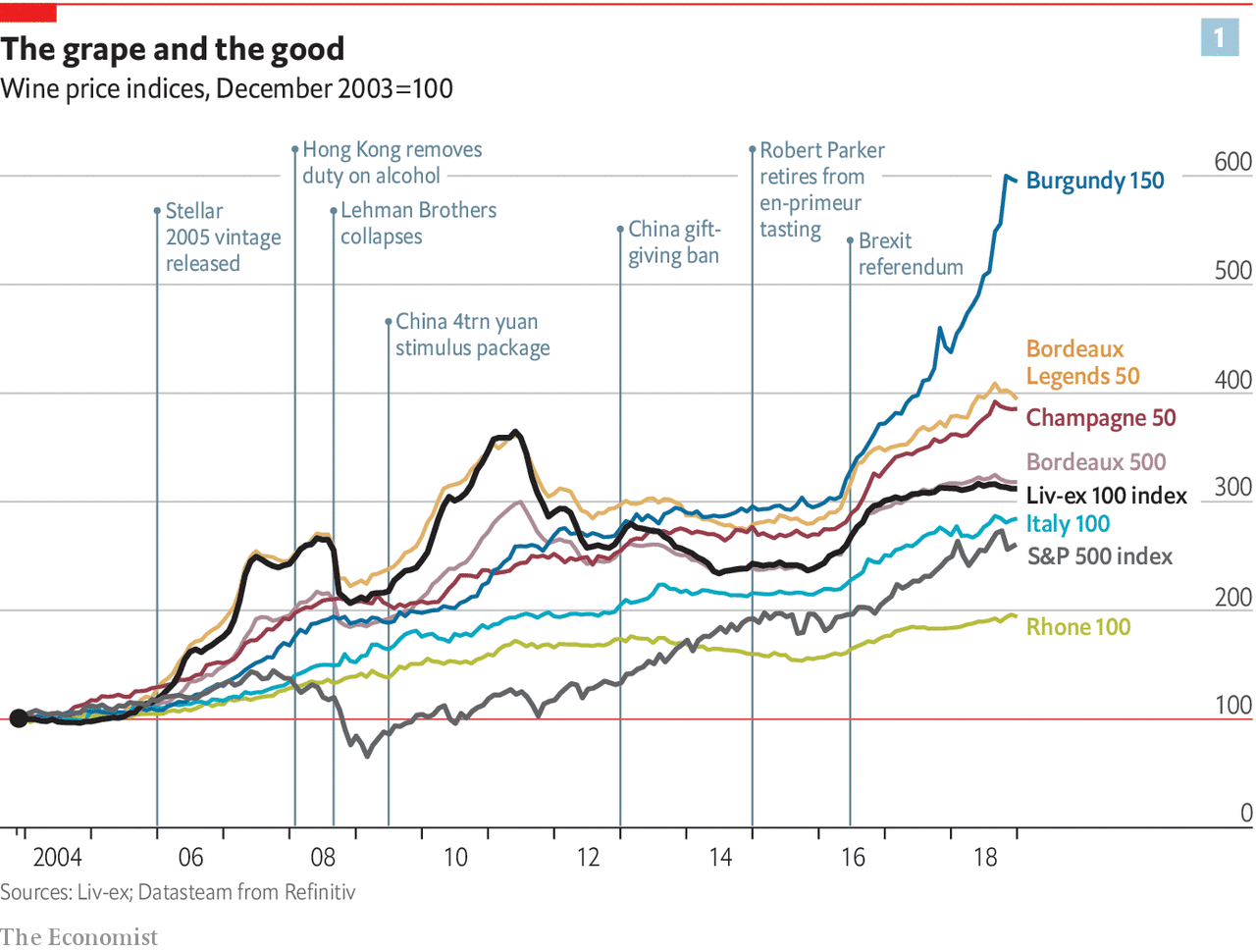 Soon after the turn of the millennium this changed greatly with the introduction of China and the U.S to the market place. This considerably deepened the buying pool creating a vibrant secondary market. While speculation has undoubtedly played some part in traders and collectors buying strategies since the 1970's, this market evolution brought with it for the first time outright speculation.
This expansion to a truly global market meant this once simple collectible commodity would now, for better or worse, become embroiled in global economics.
Timeline Breakdown
1. September 2008
Lehman brothers file for bankruptcy, signalling the start of the financial crisis.
2. November 2008
China announces economic stimulus programs.
3. May 2011
The Bordeaux 2010 Vintage is offered for sale at record prices, testing market strength.
4. July 2012
China announces a crackdown on gift giving of luxury goods among government officials.
5. July 2014
The market hits its lowest point since before the China-led boom.
6. June 2016
Sterling weakens following the Brexit vote and starts a 2 year bull market.
November 2019
CHINA US trade war in conjunction with a fever pitch in HK riots sees wine market begin long term retracement in price.
March 2020
COVID crash point for global markets and for wine, what followed was 3 months of stagnation at price lows completing retracement from 2019 highs.
September 2021
The wine market bottoms.
Pivotal Moments Both Good and Bad:
There are three events that stand out when considering the construction of the modern market: the collapse of Lehman and the ensuing financial crash of 2008; the huge fiscal stimulus in China in 2009; then more recently the EU referendum. These broad strokes have become cornerstones of the market. While COVID cannot be ignored as an event, it has been a test of the asset class not a constructing one.
At BiBO, we believe in radical transparency. Of these three events, most wine investment companies will opt to tell you about one; the broad gains seen since the EU referendum. Highlighting the troughs as well as peaks over the last decade demonstrates the fine wine market as a financial market like any other, where expertise is required in navigating the macro-economic factors that shape the market.
We could show you a graph rebased from 2016 that only goes up and to the right. In reality, we believe this to be misleading. Instead we want to give you the truth.
Liv-ex Fine Wine 50 Index - 2000 to Present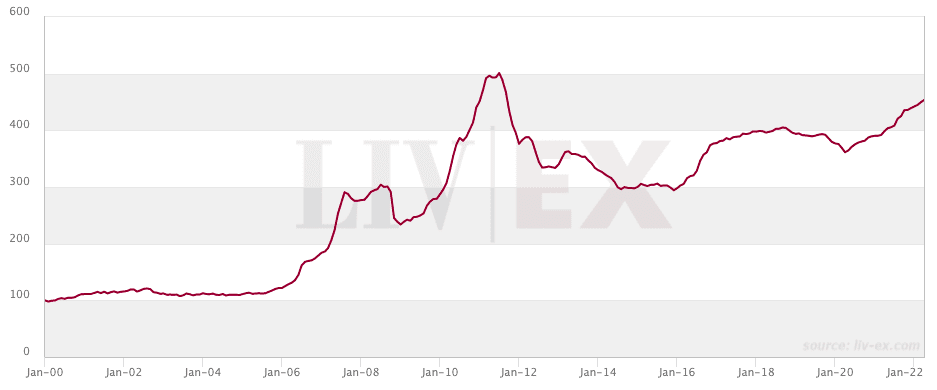 The success of the 2005 vintage stimulated the Bordeaux centric market to begin a vast price move. What followed was a three-year bull market and a 170% increase of the fine wine 50 by the summer of 2008. Then as Lehman collapsed, the fine wine market followed, recording a sharp 62% decline.
Following this crash came Chinese fiscal stimulus to the tune of 4 trillion Yuan. This injection of investment rippled around the world and kick-started a second major bull market.
Buying sentiment quickly grew to unsustainable levels, as the Chinese interest in fine wine (a common gift for officials) intensified. Since 2005 the market had now accelerated to see gains of 345% in 2011.
The bubble burst in the summer of 2011. The 2010 En Primeur campaign release prices were set staggeringly high and the market strength crumbled. A sharp correction moved prices back dramatically.
Liv-ex Fine Wine 50 Index - 2009 to 2013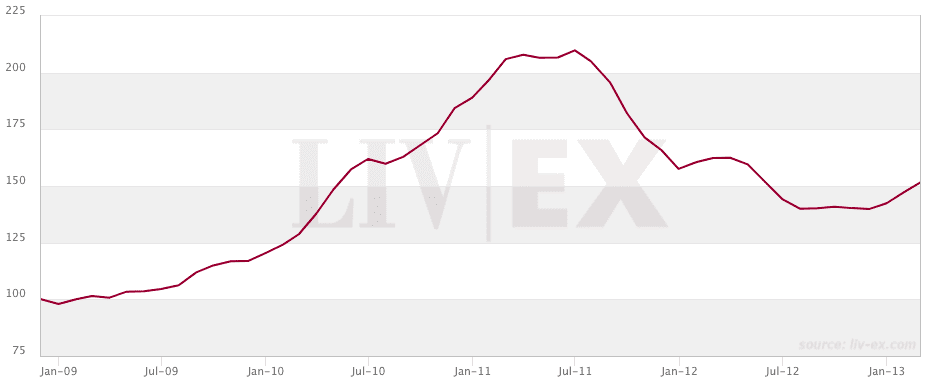 The market, Bordeaux in particular, sat in a state of flux, eventually rebasing and finding its feet once more. For the wider market a period of relative stasis extended over 5 years. Then in June 2016 a vote to leave was passed. The overnight capitulation of Sterling brought overseas individuals to the table and a market frenzy began. With stock discounted by up to 15%, the market jumped in activity and competition.
Liv-ex Fine Wine 50 Index - Post Brexit to 2018
The subsequent 2 years saw fine wine enjoy a period of consistent performance with prices growing across the various regions and price points. However in late 2018 this bullish ascent came to a halt thanks to a combination of Trump, China and rioting in Hong Kong. This toxic geopolitical cocktail saw global wine trade slow as shipping to HK stalled and obstructive tariffs were imposed on the U.S. What followed was a protracted retracement in wine prices. It was the longest and most significant natural drawdown in wine market history and, in our opinion, an overdue one. The result of this was a movement towards a point whereby values represented much closer that of the quality in the bottle.
Liv-ex Fine Wine 50 Index - 2018 Market Low to Present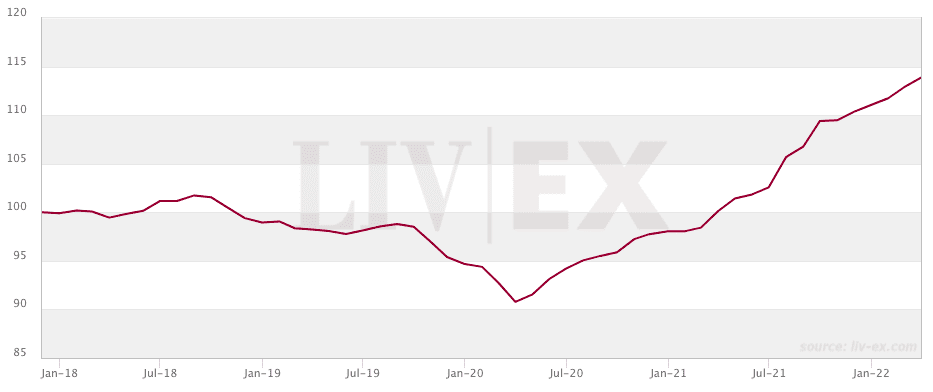 A final flourish to this bearish move was the impact of COVID. The crash in March 2020 had the wonderful effect of forcing the wine market to decide where true value was. It was a crystallising moment that reset the market. Here we found the true support point for price based on real value and quality. If you had the clarity to see this for what it was, this was one of the best buying opportunities of the last 5 years. Following this market bottom we are in an accumulation phase. With high inflation rates, and global recovery or recession looming, savvy investors are looking to batten down the hatches with appropriate assets classes. Fortunately, wine is one of them.